Sacred Connections 2023 Calendar of Events
We invite diverse religious groups in the Greater Cincinnati region to host an in-person event at their place of worship. Each religious group can choose how they wish to host the event. Our in-person monthly Sacred Connections events are listed below. They are free to attend, but registration is required, as a courtesy to the host organization.
For any questions, or information on hosting an event, please contact the Co-Chairs of the Sacred Connections Program:
Becca Desai (bfdesai@aol.com)
or Miriam Jackobs (m.jackobs@gmail.com)
Upcoming Events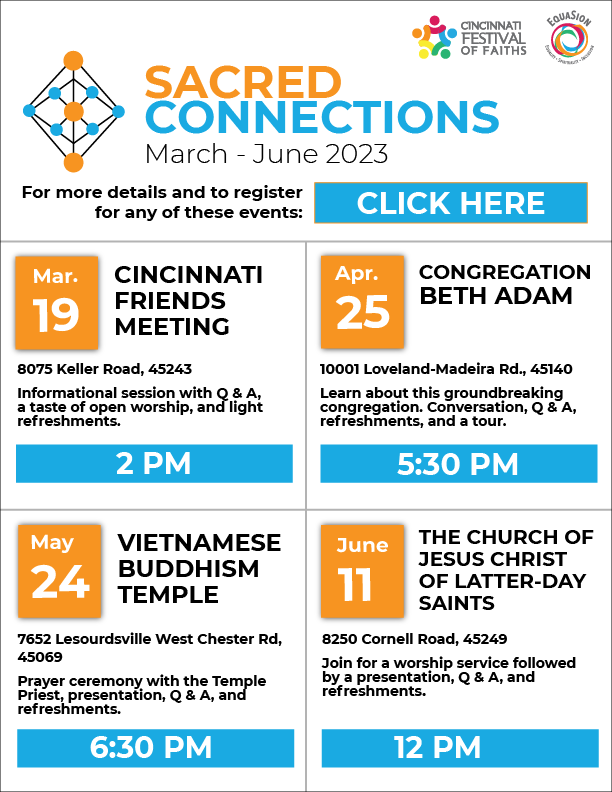 Sacred Connections at Vietnamese Buddhism Temple
Sacred Connections is a program under the Festival of Faiths that organizes diverse religious groups to host an in-person event at their place of worship.
Wednesday, May 24, 6:30 PM
Chùa Bảo Lâm (Jeweled Forest Monastery)
7652 Lesourdsville West Chester Rd, West Chester Township, OH 45069
https://www.chuabaolam.com/
Event details: (Free to attend, but registration is required)
6:30 PM Prayer ceremony with the Temple Priest
6:45 – 7:15 PM Presentation by Aruni on Teachings of Buddha, the Buddhist Community, and Temples in Tri-State area
7:15 -7:30 PM Q & A with the guests
7:30 – 8 PM light refreshments
Past events
Congregation Beth Adam
On April 25th, 2023, sacred connections hosted a Conversation with Robert Barr, the founding Rabbi of Congregation Beth Adam. Sitting in Beth Adam's unique sanctuary, participants they learned about the philosophy and practices of this ground breaking congregation.
Sacred Connections Hosted Cincinnati Friends Meeting
On March 19th, 2023, the Cincinnati Friends hosted the first Sacred Connections event of this year. Rev. Jim Newby and Sabrina Darnowsky gave a wonderful presentation to the guests about their faith, their beliefs and practices, and their history.  The presentations were followed by silent worship, after which the Friends had arranged for fellowship with the guests over some delicious home-made refreshments. Their Friends meeting house, the community of Friends, and the entire event were uplifting and enlightening to those of us who didn't know much about the Quakers.  The script of the entire presentation is here in this link given below for those who missed this event, and would like to learn about the faith of the Friends.  We are grateful to Rev. Newby, Sabrina Darnowsky, and their Friends for hosting us and welcoming us so warmly into their religious home.  Thank you, Cincinnati Friends Meeting!
Sacred Connections hosted by Society of Friends: script of the presentations by Jim Newby and Sabrina Darnowsky
September 11, 2022, 12:00 pm
The Church of Jesus Christ of Latter-day Saints
12:00 to 1:00 pm – Worship meeting
1:00 to 2:00 pm – Presentation of beliefs and Q&A
2:00 – 2:30 pm – Munch and Mingle
Address: 8250 Cornell Rd, Montgomery, OH 45249
Register here.
September 17, 2022, 4:45 pm
Baha'i Presentation
Meet and Greet
4:45pm: Doors open and meet and greet
5:00pmTalk on 'Baha'u'llah's vision of humanity' with dinner and conversation to follow.
Address: The Baha'i Center, 2723 Montana Avenue, Cincinnati, Ohio-45211
Register here.
September 24, 2022, 10AM-4PM
Sacred Connections with Beulah Baptist Church
Kestral Point Shelter in Winton Woods Park
Cookout with Church and Friends, eat at Noon
The Church is providing the meat and main dish, Friends can bring a side dish. Enjoy games and fellowship.
Register for this event, please!
October 1, 2022, 1pm
Talk and tour of the Islamic Center of Greater Cincinnati
(Host: Shakila Ahmad/Shabana Ahmed)
1:00 – 2:00 pm – Talk on Islam and Muslims
2:00 – 2:30 pm – Witness 2nd prayer in the Mosque
2:45 – 3:30 pm – Light refreshments/discussion
Address: 8092 Plantation Drive. West Chester, OH 45069
www.icgc.us
Register here.
May 21, 2022 Sacred Connections
Lutheran Church of the Resurrection
The Sacred Connections hosted by Pastor Henry Zorn at his church, Lutheran Church of the Resurrection, was an extraordinarily inspiring event; it was one of the most touching and heart-warming Sacred Connections events attended by us so far.
Pastor Zorn explained the theology of their church, followed by a beautiful service, with hymns and prayers, and most importantly he honored our dear friend and EquaSioner, late Jaipal Singh's life and works. He spoke about Jaipal extensively, including a video clip of Jaipal speaking on Fountain Square a few years ago. Pastor Zorn's entire focus conveyed how important it is for all of us to get to know each other as the first step in developing loving and peaceful communities, which is the entire purpose of our Sacred Connections Program.
Pastor Zorn inspires people to build bridges to unite humanity. After this beautiful service, his church members hosted a feast for all the guests. Over the delicious food prepared by the church members, there was a great hour of conversations among all the guests.
We thank Pastor Zorn and his church members most sincerely for hosting a memorable Sacred Connections event on 21st May, 2022.
Submitted by Jan Seidel and Becca Desai
May 4, 2022 Sacred Connections
Cathedral Basilica of Saint Peter in Chains
On May 4, 2022, a group of EquaSioners and other guests toured the beautiful Cathedral Basilica of Saint Peter in Chains in downtown Cincinnati. It was so wonderful to be together again in person for our "Sacred Connections" program after two years of virtual programming due to the pandemic! Leading the tour was Father Jan Schmidt, rector of the Basilica. Father Jan shared with us the history of the cathedral and the Catholic population in the Cincinnati, which included early marginalization within society. The cathedral itself was built in the Greek revival style to resemble the architecture of government buildings such as the US Capitol in Washington, D.C., to visually proclaim the message that Cincinnati Catholics were loyal Americans.  The cathedral is home to priceless treasures including an expansive marble interior, an extraordinary Venetian glass mosaic filling the rear wall of the sanctuary, a replica of Michelangelo's exquisite Pieta in the baptistry, sacred relics, and a cherished sliver of the cross of Calvary.  We appreciated how openly Father Jan shared his Catholic beliefs and practices with our interfaith group. We learned about transubstantiation, prayer and the intercession of saints, and baptism. We gained a greater understanding of our Catholic neighbors and friends from this experience. A special thanks goes to Andrew Musgrave, EquaSion member of the Catholic faith, for coordinating this tour for us.
Submitted by Marlaina A. Leppert-Wahl
June 7, 2022, 6:30 pm
Ohio Buddhist Vihara (Sri Lankan Buddhist Temple)
(Host: Aruni Marapane – Buddhist Chaplain)
6:30 – 7:30 pm – Touring the temple premises and temple grounds, participating in a traditional chanting and blessing ceremony conducted by the Buddhist monks.
7:30 – 8:30 pm – Light refreshments and conversation.
Address: Ohio Buddhist Vihara, 1831 Miles Road, Cincinnati OH 45231. Directions at Ohiobuddhistvihara.org, Phone: 513-825-4961
July 17, 2022, 4:30 pm 
Introduction to Zoroastrianism
(Host – Becca Desai, Zoroastrian Association of KY, OH, & IN)
4 – 4:30 pm Explore the exhibit tables and learn about this ancient religion
4:30 – 5 pm Q & A Session
5pm – 6pm Refreshments and Conversation
Address: 2723 Montana Ave, Cincinnati, OH 45211
Cincinnati Bahá'í Center
See below to view our 2021 virtual visits.
2021
February 28 , hosted by Adath Israel Congregation:
March 14th, 3:30 pm, hosted by the Islamic Center of Greater Cincinnati:
April 11th, 3 pm, hosted by The Church of Jesus Christ of Latter-day Saints
May 30th, 2 pm, hosted by the Zoroastrian Association of Kentucky, Ohio and Indiana
Previous "Sacred Connections" Hosts:
K.K. Bene Israel/Rockdale Temple (January, 2019)
Cincinnati Friends Meeting (February, 2019)
Lutheran Church of the Resurrection (February, 2019)
Zoroastrian community (March, 2019)
Sikh Gurdwara Sahib (April, 2019)
First Unitarian Church (May, 2019)
Baha'i community (June, 2019)
Islamic Center of Greater Cincinnati (July, 2019)
Hindu Temple of Greater Cincinnati (August, 2019)
The Church of Jesus Christ of Latter-day Saints (October, 2019)
Immaculate Heart of Mary Catholic Church (October, 2019)
Legacy Pointe Church (November, 2019)